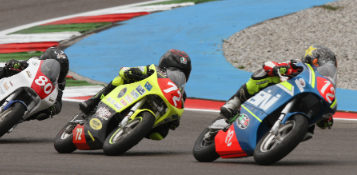 Less than a week to the single round of the ECMBR (European Championship Mini Bike Racing), the European Junior Speed Championship under the aegis of FIM Europe which sees the Italian Motorcycling Federation at the forefront for the success of the big event scheduled by the 2 to 5 August between the "Daniel Bonara" Autodromo di Franciacorta and the Castrezzato Motorsport Arena.
One week after the first tests the provisional entry list was unveiled with an increase in terms of subscribers compared to last year. Among the Minimoto Junior classes (A - B - C) and Open (A - B) there are currently 53 starters, 39 overall for Mini Bikes between the categories MiniGP 50cc, Honda NSF100 and OHVALE GP - 0 (110, 160 and 190) with a technical regulation strongly inspired by the CIV Junior.
Also disclosed the program with all the timetables of the European Championship Mini Bike Racing, from the first tests to the races. All documentation is available on CIV.tv, by clicking on the "CIV Junior" menu and on "Europeo 2018". 
We hereby inform you that PMT Tyres will be present with track service for all his clients, and not only, during all the European Championship – from Wednesday morning to Sunday Ceremony –
PMT has always looked after their riders and for that reason they will provide to all riders using genuine tyres for Minimoto – Mini GP – Ohvale – Honda NSF 100 the following prizes:
1.Winner: 1 set of tyre;
2.Second: 1 rear tyre;
3.Third: 1 front tyre;